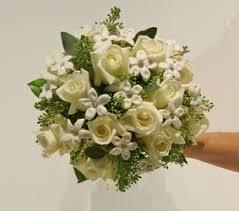 Wedding appointment season is in full swing According to WeddingWire, a Bethesda company that provides technology for the wedding industry, 33 percent of engagements happen to occur between Thanksgiving and New Year's Day. Families are together, sparkly lights abound and people are in the mood to unwrap things. That translates in to a rush of excited brides stopping by to talk to us about flowers for their wedding day. One of the most popular flowers for weddings is the Madagascar Jasmine or stephanotis. This sweet little star-shaped flower is visually stunning and packs a powerful punch of perfume. Stephanotis flowers are also known as Madagascar jasmine flowers, for their rich perfume and small white flowers that resemble the jasmine. However, the flowers are not related, as the common jasmine is part of the olive family. The blooms represent marital harmony in the language of flowers, and stephanotis flowers contribute a significant amount of fragrance to bridal bouquets without taking up much space. Consider this lovely little classic when trying to compose your perfect bouquet.








The other evening as I was sitting at home watching TV with my husband we were flipping channels and came across the classic Christmas movie "Miracle on 34th Street". I told him how much I loved that movie and how it had shaped my entire retail customer service policy since buying my Florist as a 19 year old college freshman. The lessons in this movie are more important now than ever. It seems I am not alone in my inspiration!

Read the reprinted column from Anna Papachristos of 1 to 1 Media below to see what I mean!

Anna Papachristos | December 12, 2012

The "Miracle on 34th Street" Guide to Customer Service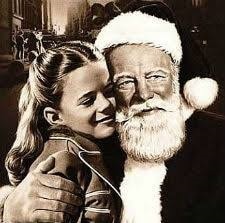 Santa sees you when you're sleeping, and he knows when you're awake, but the average Christmas song neglects to highlight this jolly old man's keen business sense. Just take a moment to evaluate St. Nick's behavior in Miracle on 34th Street and you will discover that under his white beard lies the face of an experienced customer service professional.

Santa sees you when you're sleeping, and he knows when you're awake, but the average Christmas song neglects to highlight this jolly old man's keen business sense. Just take a moment to evaluate St. Nick's behavior in Miracle on 34th Street and you will discover that under his white beard lies the face of an experienced customer service professional.

Though radical in theory, Mr. Kringle's approach struck a chord with Mr. Macy and department store competitors throughout the country. Mr. Macy saw the benefits of becoming "the helpful store, the friendly store--the store with a heart." Instead of seeing these shoppers as customers meant to rack up the dollar signs, he took Mr. Kringle's cue and treated them like people--yes, people!--not profits.

Often times, in today's constantly connected, multi-channel environment, companies get too caught up in strategy to focus on the customer. While these companies actively attempt to provide the best customer experience possible, they neglect the individual in pursuit of a favorable outcome. They claim their strategy will improve customer satisfaction or customer retention, but their fixation on data puts companies at a disadvantage. This information is of no use if they do not understand the people driving these results.

Miracle on 34th Street may be fictitious, but the lessons sewn throughout remain steadfast and true. There may be 65 years worth of technological advances separating us from this beloved classic, but we cannot ignore the beauty in the simplicity of their service initiative. They didn't need social media or mobile applications. They only needed one man to teach them how to treat customers like people, not pawns, in order to boost loyalty and advocacy. Perhaps, if we look to remove the complications brought on by technology, we will be able to breathe new life into the heart of every business: the customer

Did you enjoy this content? Sign up for our FREE weekly e-newsletter by clicking here

Merry Christmas everyone!







It will be difficult to erase the Brand Loyalty companies like FTD and the BBB have generated over the decades. But, people need to know that FTD is not the same trusted company it once was, After changing hands several times in the past 2 decades, it has become a nightmare of greed and deception. People should use the same caution buying online from a floral order relay company as they should when they buy anything from a company they do not know. Shop Local, be safe, use a company in your community you are familiar with! The Better Business Bureau also no longer operates as an impartial business watchdog. If the ratings are for sale how can the company be impartial? Buyer Beware!

The information below is a re-print of an article written by

Cathy Hillen Rulloda,

Avante Gardens Florist in Anaheim Calif.

Ms. Rulloda is a floral industry leader and educator who has taken it upon herself to help educate the consumer and fight deceptive Floral order gathering...

As a business owner whose company is a member of the BBB, it's disheartening to read such an incendiary, misleading headline as the one released by the Chicago BBB about florists this Valentine's Day.

A more helpful headline could have read: "Local Chicago Florists Blossom in 2011: Just 30 consumer complaints for the entire year."

Hey, Chicago BBB, how about a do-over? And if you're going to send out a press release cautioning flower buyers for Valentine's Day, think twice about who you award those A+ ratings.

Valentine's Day BBB Florist Warning: Top Source of Complaints

February 2, 2012

Valentine's Day flower shopping advice abounds. Yesterday, Chicago's BBB reported that complaints filed against florists were up 47% from 2010 to 2011 and urged sweethearts to shop wisely for the best blooms.

A 47% complaint increase? Quite an alarming statistic – one that really begged for a closer look.

So I dug through their numbers to discover the details of the source of that huge jump in BBB complaints:

Total 2011 Chicago BBB Florist Complaints : 588
FTD.com complaints: 558

Local Chicago florist complaints: 30FTD.com's business practices were the source of 95% of all complaints about 'florists' made to the Chicago BBB. I called the Chicago office of the Better Business Bureau to ask a few questions and to express my dismay with the way their press release seemed to create a negative portrait of Chicago florists as a group. In reality, the overwhelming majority (all but 5%) of complaints processed were about a single business – FTD.com – and the BBB still rates that company with an A+.

So in effect, by urging consumers to view florist ratings on the BBB site, the BBB is heartily 'endorsing' their single biggest source of consumer flower dissatisfaction.

Many local florists believe the Better Business Bureau should put national floral marketing firms like FTD, Teleflora, 1800Flowers.com, Blooms Today, Just Flowers and others in a category separate from local flower shops. These businesses don't stock fresh floral inventory and don't actually make the deliveries themselves. They primarily broker orders to local florists for fulfillment or use third-party fulfillment houses to drop-ship orders via parcel services.

Please, call them Floral Relay Services, Floral Marketing Agencies, Online Floral Services or some other name that reflects the true nature of their businesses, but don't classify them as 'florists'.

Lumping local stores in the same category as national call center/affiliate marketers is akin to categorizing Expedia or Travelocity (travel agents) as hotels or airlines.

Before anyone gets the idea that weak local florists cause most of the complaints about FTD.com, it might be helpful to know:

- Valentine's Day 2011 was the scene of a major marketing fiasco with FTD.com and Groupon where FTD's discount offers through the group buying site were called bait and switch scams across national media.
- Approximately 75% of the products featured on FTD.com for Valentine's Day and other floral holidays are not delivered by local flower shops. They're drop-shipped in boxes via UPS and FedEx.
- FTD created a program which severely fines local florists 100% of the value of each flower order if the shops fail to deliver the items on time. The down-side for accepting their orders is now much greater than the up-side during busy major holidays. Many stores simply shut off their FTD communications software and refuse to accept FTD orders before and on high-demand days like Valentine's Day and Mother's Day.








U.S. Commerce Association's Award Plaque Honors the Achievement

NEW YORK, NY, September 7, 2011 -- Herndon Florist has been selected for the 2011 Best of Herndon Award in the Fresh Flowers category by the U.S. Commerce Association (USCA).

The USCA "Best of Local Business" Award Program recognizes outstanding local businesses throughout the country. Each year, the USCA identifies companies that they believe have achieved exceptional marketing success in their local community and business category. These are local companies that enhance the positive image of small business through service to their customers and community.

Various sources of information were gathered and analyzed to choose the winners in each category. The 2011 USCA Award Program focuses on quality, not quantity. Winners are determined based on the information gathered both internally by the USCA and data provided by third parties.

About U.S. Commerce Association (USCA)

U.S. Commerce Association (USCA) is a New York City based organization funded by local businesses operating in towns, large and small, across America. The purpose of USCA is to promote local business through public relations, marketing and advertising.

The USCA was established to recognize the best of local businesses in their community. Our organization works exclusively with local business owners, trade groups, professional associations, chambers of commerce and other business advertising and marketing groups. Our mission is to be an advocate for small and medium size businesses and business entrepreneurs across America.

SOURCE: U.S. Commerce Association

CONTACT:
U.S. Commerce Association
Email: PublicRelations@uscaaward.com
URL: http://www.uscaaward.Com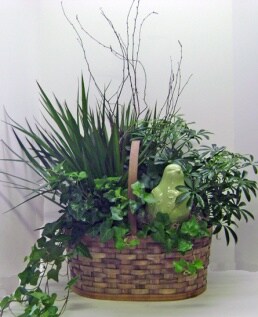 Summer is almost over! It will be time to shut off the air conditioning soon and open up the windows. If the thought of the loss of fresh air and sunshine depresses you, why not make a change to your environment. Did you know, houseplants are commonly grown for decorative purposes, positive psychological effects, or health reasons such as indoor air purification. Plants used in this fashion are most commonly, though not always, tropical. There is such a wide variety of plants available that you can find the perfect one for your home and your lack of a green thumb. Try some easy to care for plants like the peace lily (Spathephyllum) or Mother-in-Laws tongue (Sansiveria). When you have mastered these move on to the more exotic plants, air plants or terrariums. Remember the easiest way to go green is to bring the outside in. Plants are the perfect air freshener!














Herndon Florist is now WeddingWire Rated for 2011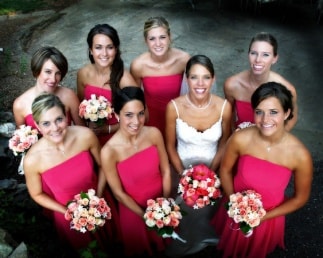 Herndon, VA - July 5 - WeddingWire, the nation's leading wedding technology company, is pleased to announce that Herndon Florist is WeddingWire Rated 2011 for Northern Virginia, Maryland and DC. WeddingWire Rated is an annual award program that distinguishes wedding vendors across the country for their excellence. Based on hundreds of thousands of recent wedding reviews, WeddingWire Rated is the most recognized and trusted brand among engaged couples looking to find the best local businesses for their wedding.

Herndon Florist has numerous reviews on WeddingWire. Reviews by our newlywed clients include detailed ratings and insightful descriptions about their experiences working with our business and staff. Our reviews provide transparency for potential clients, assisting them in making the most informed decisions for their big day.











What is the best way to take care of a flower arrangement?

It depends on how they are packaged:
If you receive flowers in a container with floral foam, be certain the container is full of water every day. The water should be treated with the floral food provided by your florist. Using your finger, feel under the greens for a place where water can be added. Or you can pour water slowly into the center of the arrangement, keeping a finger in the container to gauge the water level.

If you receive flowers in a vase, check to be sure the water is always clear. If the water turns cloudy, empty it and add fresh water mixed with the floral food provided by your florist. If possible, re-cut the stems with a sharp knife before placing them in the fresh water.

If you receive flowers in a box or tissue, remove all of the foliage that falls below the water line, then cut the stems with a sharp knife in a sink full of warm water. Be sure to cut the stems under the water and place them immediately into a vase of warm water mixed with the floral food provided by your florist.
No matter what type of arrangement you have, it is important to keep your flowers off of televisions, appliances and heating/cooling units. You should also keep them away from hot or cold drafts and out of direct sunlight.

What is wrong with the water in a vase when it turns yellow and cloudy?

This is a natural sign that bacteria are growing in the water. Bacteria can clog stems and shorten the vase life of flowers, so keep the water clear at all times to ensure the longevity of your blooms. If your water starts to turn cloudy, immediately empty the vase and add fresh water, preferably mixed with the floral food provided by your florist. Re-cut the stems with a sharp knife under warm water before placing them in the vase of fresh water.

Since flowers like sunshine, should I put my arrangement in the sun when I get it?

No. Growing flowers require sunshine for maturation, but cut flowers will fade much faster if exposed to heat and direct sunlight. To keep flowers fresh longer, place them in a location away from sun and drafts.

Is it possible to revive a wilted rose?

Sometimes. If a rose wilts prematurely, remove it from the arrangement and try the following easy tip to perk it up. Fill a sink with warm water. Lay the rose horizontally in the water bath and cut the stem (about 1") with a sharp knife under the warm water. Leave the rose in the bath for about two hours and let the water cool. This process can work wonders, but if the rose is already past its vase life it will not revive.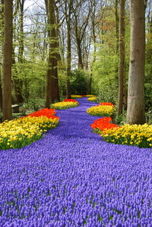 Today foreign growers account for almost 90% of the flowers sold in some segments of the flower market. Columbia and Ecuador are responsible for the majority of the roses, carnations and alstroemeria we see in the marketplace today. Holland is still the largest importer of specialty cut flowers and spring bulbs. South Africa, Thailand and the Philipines make up the segment of growers that provide us with our gorgeous orchids and tropical flowers. Israel is a provider of foliage in the form of Ruscus.

A surprising newcomer in the flower marketplace is our neighbor to the North. Canadian flower product has become a staple in most flower shops. Their snapdragon and spray roses are among some of the highest quality available on today's market.

So next time you look at a pretty bloom, think of the many, many miles it has traveled to brighten your day!